10 year journaling anniversary.
I love to write down my thoughts and feelings. I can't remember for how long I've actually been doing this thing we call journaling but I'm very greatful for it. Some people draw to get their emotions out on paper, and some write, while others might actually talk out loud with someone to get some perspective on what's going on inside of us. I prefer to write and usually won't let anyone see what I've written, because it's thoughts and emotions that usually have been buried inside for a long time and only dare to come out in the presence of my own soul. Quietly and emotionally.
While I was looking through my hard discs and old PC stuff I found old files where I wrote down thoughts and used as a sort of diary. It's always difficult to look back in old files and read what has been written from an older self, although I am very grateful to be able to do that. It allows for some time of reflection on your current life and where you've come in your journey, if you're going in the right path and if you're not, it's usually pretty clear after a while meditating on your purpose.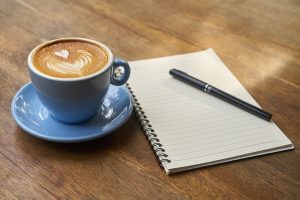 This year, 2018, marks a special year for me, it's been exactly 10 years since I started to journal in the computer and digitally. During this time I have of course used a lot of notepads as well, but I usually come back to my Google Docs documents where year after year is stored. Some year files contain more than 25 000 words and I am amazed of the amount of text I've actually been able to write over the course of a year. Other year files are much smaller, for example around 5000 words. Those years are usually very busy and emotionally draining, which obviously makes me take a step backwards and don't get my thoughts out on paper. It can take a while to work through what you've been going through sometimes to be able to be creative with it and actually want to put it on paper.
My poems and writing poetry is the same approach, I usually need some distance to my feelings to be able to immerse into my deeper thoughts and emotions.
One of the best ways to help me with my inner life, although somewhat expensive, is to travel the world. One destination at a time. It doesn't even matter how far you go, or you stay at fancy places, for me the important part is just the journey. It really helps me escape the daily routine and break free from detrimental thought patterns and start fresh, in another place, totally disconnected from the rest of my life.
How do you sort out your thoughts and help you to reflect on your life? Which are the different ways for you to work through your thoughts?
Peace and Love,
Kimmi Madeline